Volkswagen football
Content lead agency for international football sponsoring.
01 The goal
Everyone loves football – Volkswagen loves Football. More than that, the game is strategically important for Europe's largest car manufacturer – Volkswagen is the official mobility partner of the German Football Association (Deutscher Fußball-Bund, DFB) and partner of the DFB cup, the Union of European Football Associations (UEFA), and various other teams and associations. We gather these activities under the claim "we drive football" and stage the global brand as a leading supplier of sustainable mobility services. The goal: when people think of football and mobility, they think of Volkswagen.
02 The strategy
We celebrate the emotional power of football to connect people with PR stunts, campaigns, articles and posts. The guiding idea: "Celebrating the unifying power of football". This idea serves as a filter for creation and ensures holistic marketing communication that supports brand values. At the heart of the ecosystem lies the content hub "we drive football", connected to the Volkswagen OneHub. This is where most integrated marketing activities take place. The content is produced in a newsroom by an interdisciplinary team and distributed across all relevant touchpoints.
03 The implementation
Football is for everyone! For the legends of the local league and kings of the sixth division. For season-ticket-holders and part-time enthusiasts. For armchair commentators and tactics freaks. With a holistic approach we create appropriate content for all these people – and adapt it for the most important European Volkswagen markets. To create a unified look and feel across all touchpoints, Volkswagen's new brand design was extended by a football communications division. Four brand pillars – celebrating, providing, enabling and uniting – serve as guiding principles for every content piece. The content hub is the core of the ecosystem, integrated with volkswagen.de since early 2020. The content hub is a football magazine that regularly publishes articles and visual stories. Volkswagen's football commitment is in focus on the "we drive football" Facebook page, in content formats such as live talks, throwbacks, quizzes and challenges. Specifically, all sponsored tournaments, associations and teams are staged impressively. Volkswagen mobility services are integrated into the feed in an organic way. The content formats are designed to generate engagement and encourage users to like, share and contribute content. An Instagram channel was launched recently to promote Volkswagen's football sponsoring there as well.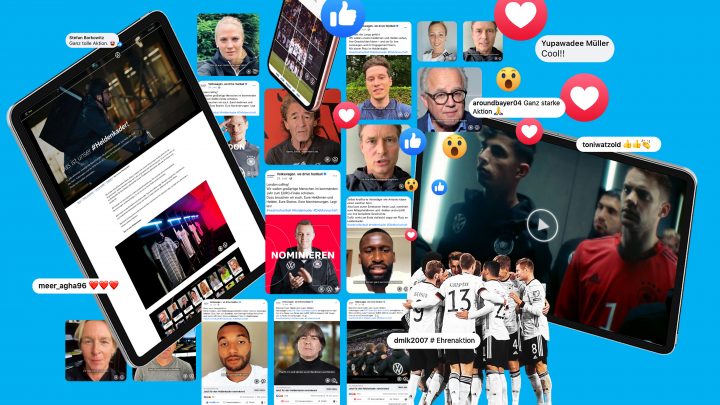 > 139 million
impressions.
> 17 million
interactions.
> 15 million
video views.
05 Why it matters
C3 sets a benchmark for Volkswagen's international football communication. For "we drive football", we use the new brand design of our client – across all available touchpoints. With content that moves football fans, from part-time enthusiasts to season-ticket-holders.
Discover more projects here or go back to all cases.